HAIG CLUB - David Beckham in China Teaser



CREDITS

---
Director, Editor, Copy: Andrew Gant

Client: Diageo
Brand: Haig Club Whisky
Agency: AKQA Shanghai
Talent: David Beckham and Gu Da Bai Hua

Executive Creative Director: Erik Cruz
Art Director: Joshua Lim
Agency Producer: Alicia Zhao

US Production Company: tinygiant
Executive Director: Veronica Diaferia

China Production Company: Gwantsi
Producers: Jiji Hu, Yimeng Zhang

Director of Photography: Luca Fantini

Color: Gene Curley @ Nice Shoes
Sound Mix & Design: Adam Gold










THE CHALLENGE
---
Two Campaigns | One Celebrity | One Product | Two Cultures
Agency AKQA Shanghai approached us to create two different branded content campaigns featuring uber-celebrity David Beckham and his recently launched Haig Club whisky. With a one day shoot, we would need to capture content for two different campaigns that would respectively resonate with their audience in China and an audience in the US.
For the campaign in China, we created a series of several short videos hosted by the popular Chinese talk show host Gu Da Bai Hua where he would speak to David about what made him the man he is today through the topics of passion, hard work, fashion, family, and a taste for beauty and adventure. This video series was primarily positioned to be played on the popular Chinese apps WeChat, Weibo, and QQ through a fully integrated brand experience.
For the US campaign, we created energetic teaser celebrating David Beckham's visit to Shanghai for his whisky, Haig Club, that was used to continue pushing the brand in the US. Even more effective, was a short 60 second spot where we captured a wonderful touching moment where David spoke about the passing of his grandfather and what it meant to him and his whisky-making. You can see this film below.
MY ROLE
---
Full-scale creative developent from a small creative brief all the way through production and post. After viewing AKQA's brief, I created a large pitch presentation, worked with producers for the shoot in China, and took the project straight to camera. In China we scouted several locations across two cities: Shanghai and Shenzhen, based on David's schedule. After working with international crews and producers, I directed the talent, shoot, and captured a healthy array of assets. For post, I immediately edited the teaser and US-based films as a tonal starting off point to show both agency and the editors in China, and then worked with side-by-side with the Chinese editors to complete the array of Chinese short video assets for their campiagn.
OTHER CAMPAIGN FILMS
---



HAIG CLUB - David Beckham and the Wellington Arch








CHINESE SOCIAL MEDIA CAMPAIGN SCREEN GRABS
---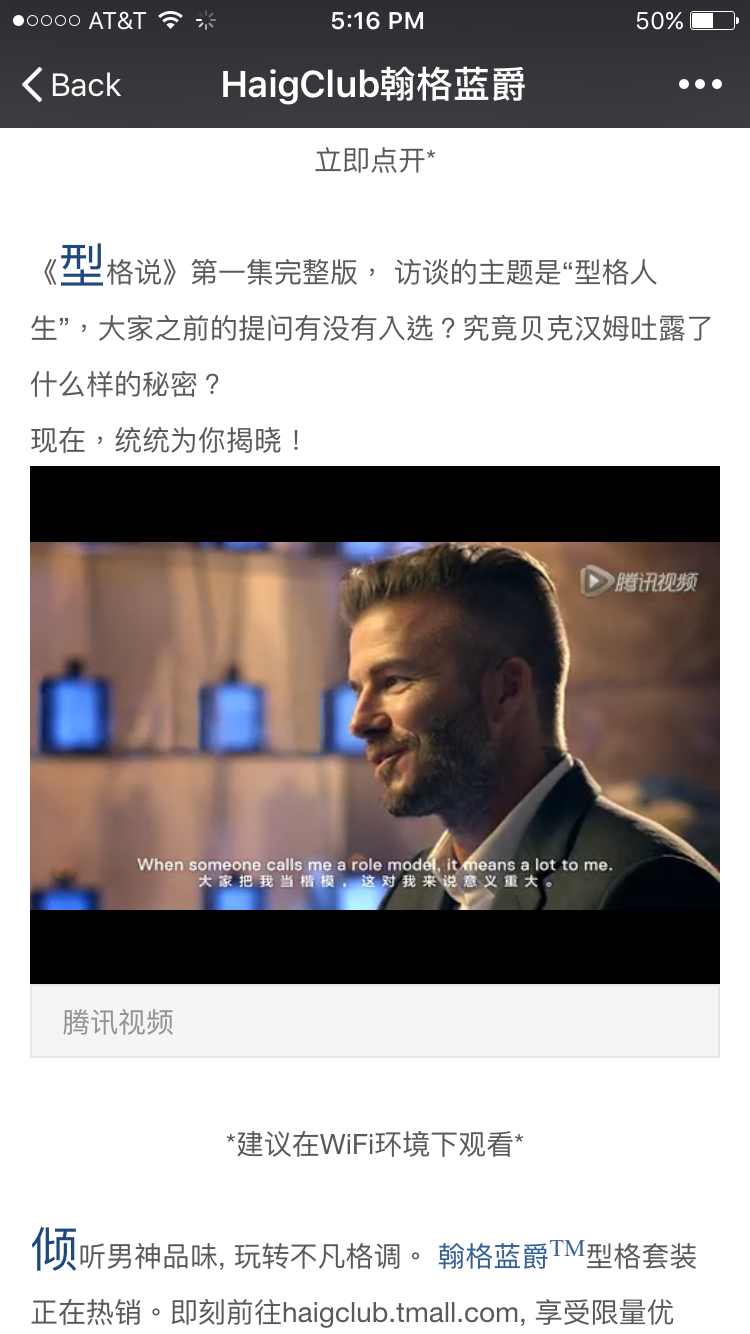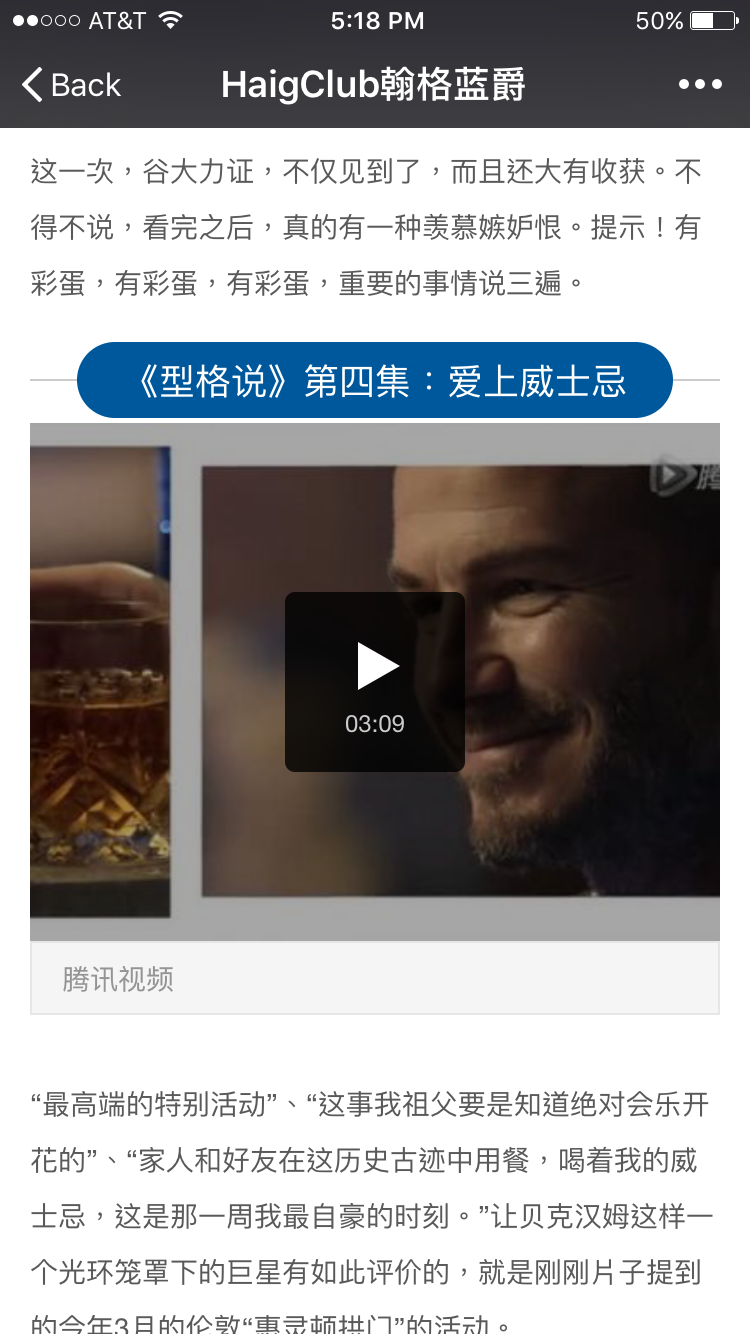 STILLS
---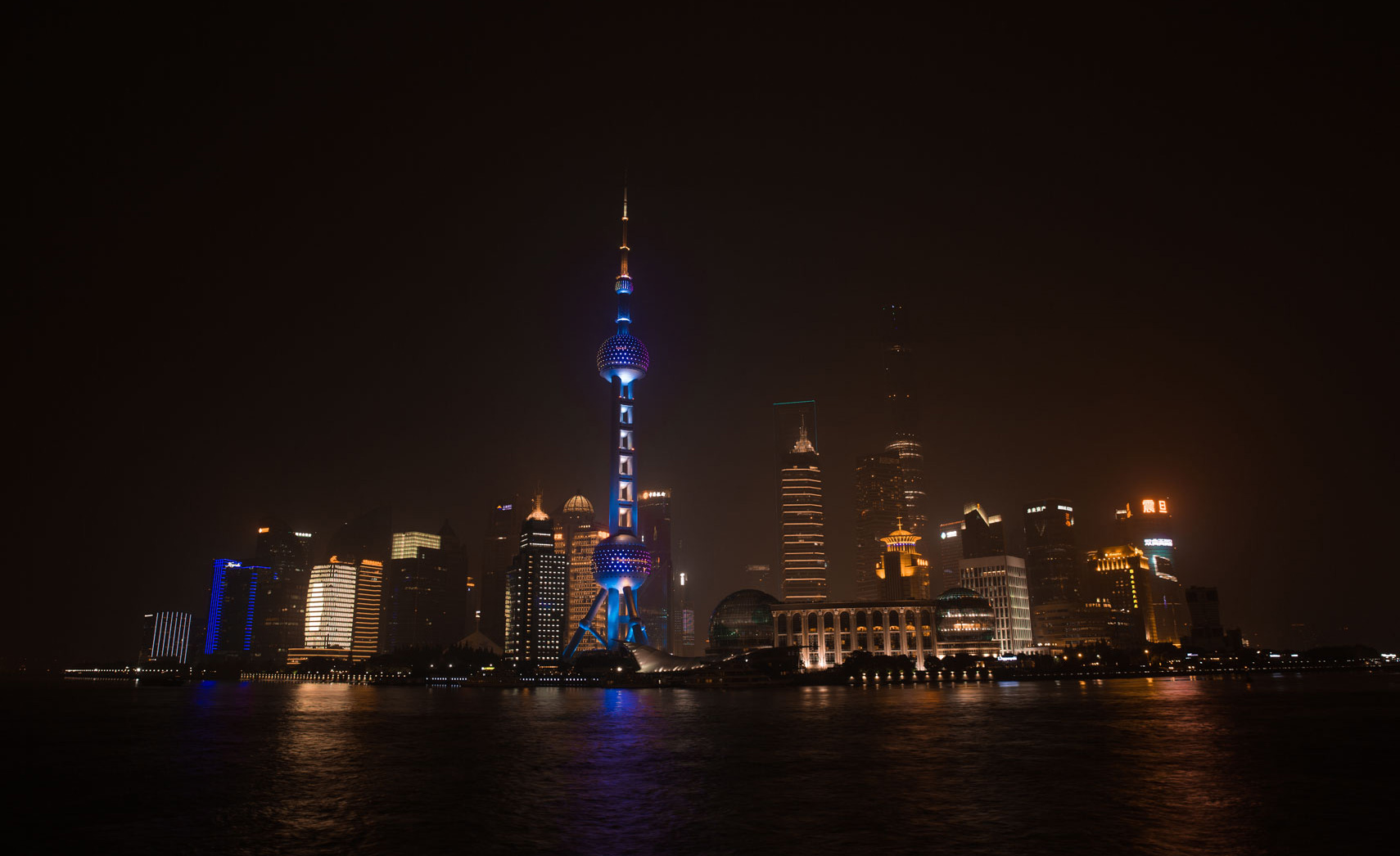 ---
Featured Projects Continued