BATMOBILE 360 -
Facebook Embed
CREDITS
---
Client:
Facebook, Warner Brothers
Production Company:
Territory Studio


Photogrammetry Director:
Andrew Gant


Exec Creative Director:
David Sheldon-Hicks

Producers:
Alice Ceresole, Sam Hart

Head of 3D:
Peter Eszenyi

3D Artists:
Nick Lyons, Sam Munnings

Motion Designers:
Daniel Højlund, Sam Keehan
Photogrammetry Company:
Quantum Capture
Photogrammetry Techs:
Morgan Young, Chris Abell, Tristan Fields

Production Services:
Forte Entertainment
Producer:
Andrea Gabourie
Producer:
Mitch Gabourie
Production Manager, Assistant Director:
Michael Knox
Director of Photography:
Simon Mestel
Gaffer:
Edwin Lau
Key Grip:
Doug Reid
Best Boy Grip:
John Oliver
Truck:
Steve Couto
Production Assistants:
Sang-Thanh Nguyen, Hong-ku Han, Jessie Chisholm, Keegan Knight, Mary Gyulay
BATMOBILE 360 -
Our Wonderful Crew
BACKGROUND
---
Working closely with Warner Bros. and Facebook, we created an exclusive 360° trailer that reveals the first up close and personal views of the Batmobile, ahead of the release of Batman v Superman: Dawn of Justice. Briefed by Facebook to create an exclusive 360 trailer of the Batmobile, we delivered a richly textured cinematic experience that reveals stunning details about the iconic supercar.
From 3D capture through to CGI reconstruction and final 360 delivery, Territory set out to give the viewer unprecedented access to the fine details only a personal inspection of the Batmobile could offer. With the aim to capture extreme amounts of photo-real detail, from dirt and dust, to scratches and dents in the Batmobile's bodywork, the team worked with a multi-camera photogrammetry rig, directed by Andrew Gant, that made several passes around the vehicle.
On iOS and Android mobile devices, the viewing angle of a 360 video is changed by dragging a finger across the screen or by navigating with the device. When watching a 360 video on a computer, the viewing angle is changed by dragging with the mouse. The video is also compatible with Samsung Gear VR devices. Our video garnered over 1 million views and 30,500 shares on facebook a week before the movies launch.
Under Peter's direction, the various components were modeled, animated and rendered and finally brought together into one continuous sequence. The final delivery is a seamless and absolutely authentic recreation of the Batmobile in the Batcave, that invites users to choose a camera point of view to explore the environment in a way not possible before this 360 technology existed.
To see Territory's in-depth breakdown go here
RECOGNITION
---
The Verge:
Featured - Explore Batman v Superman's incredibly detailed Batcave in Google Street View
OTHER VIDEOS
---
BATMOBILE 360 -

Unwrapped 360 Sample





STILLS
---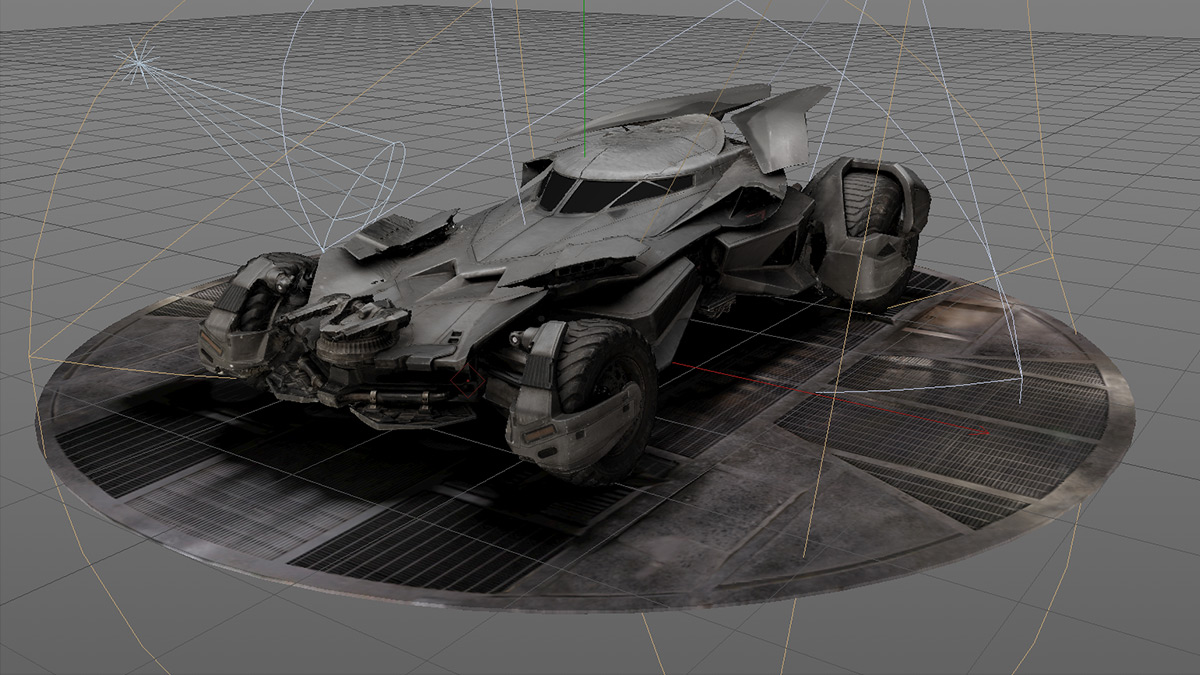 ---
Volumetric Continued